Mural, Street Art Boost Beauty and Economy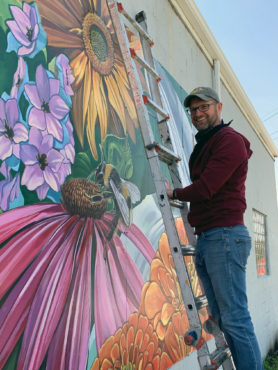 Several groups have been painting the town in the hopes that it not only brightens people's day but also boosts morale and tourism.
Earlier this summer North East in Bloom dedicated a floral mural and companion garden in front of the North East Glass Building. It serves as a cheerful and eye-catching entrance to the town from the west.
Elsewhere around town, more than 25 crosswalks and sidewalks were painted to create the #NEartZONE, a self-guided art walk connecting North East's three murals.
Volunteer artists included professional and amateur artists of all ages; high school and middle school students, teachers, and athletic teams; and Girl Scout troops, community organizations, and businesses.
According to experts, murals and public art do more than beautify the public landscape. Drawing locals and tourists alike, the art encourages exploration of an area, says real estate expert Wood Caldwell. This leads to more energized communities and stronger businesses, especially those that depend on foot traffic.
To find more on the #NEartZONE and each local artist who participated, visit #NEartZone on Facebook.