Announcing the 2019 Lake & Smith Award Winner
The North East Community Foundation has named the Lake Shore Railway Historical Society the winner of its Lake & Smith Award for Excellence in Community Service.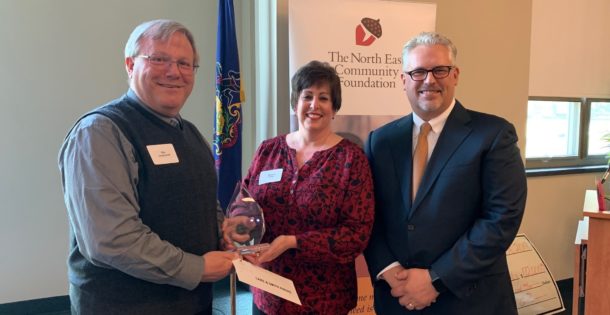 The award was created in 2007 in honor of long-time North East residents Ernest Lake and Gerrie Smith, who were instrumental in the establishment of the Foundation and served as trustees. It is given to an individual or organization that embodies the spirit of giving to the North East community.

In its heyday, North East was the second largest rail shipping community in Northwestern Pennsylvania and home to the Erie & North East, the first railroad in Erie County.
More than 100 years have passed, but thanks to the Lake Shore Railway Historical Society, North East remains a hub of activity, attracting more than 10,000 visitors annually.
The organization, which oversees the 2.5-acre property along Wall Street, is entirely run by volunteers.
It all began in the 1960s with foresight from local enthusiasts who saw the value in preserving history when the railroad wanted to demolish the property and its structures.
Members in the 1970s and 80s put up their own homes as collateral to purchase the property.
Then the collecting began – with a focus on preserving rolling, stationary and other pieces with significance to history, culture and economy of North East, Erie and the NWPA region.
Recently, the museum has focused on building its collection of locomotives built at GE – also known as the locomotives our fathers and grandfathers built.
It's a labor of love for volunteers who are solely responsible for the funding and operation of the Lake Shore Railway Museum which includes a museum housed in the Lake Shore & Michigan Southern Railroad Depot, the Erie & North East Railroad Depot aka freight house, 37 pieces of rolling stock, two crossing shacks from 19th Street in Erie, and a crossing tower from Loomis Street.
This is a group that looks both ways, with a respect for the past and a vision for the future. The organization plans to further develop the property, buildings and collection.
The Erie County Gaming and Revenue Authority (ECGRA) recently awarded the Borough of North East a $250,000, multi-year grant for façade, streetscape and safety improvements to the Clinton/South Pearl and Wall Street neighborhood. This Mission Main Street grant will allow the Borough to provide some much needed safety measures in the area, study the existing traffic and parking issues, provide funding for façades in the area and beyond and allow the businesses within the area to grow and prosper in conjunction with the Downtown community.
---