Miller Mistletoe Mile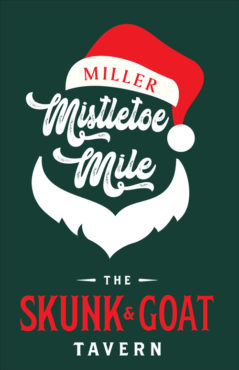 The Miller Mistletoe Mile is a fun, family-friendly one-mile walk/run.
Registration begins at 4:30 p.m. at The Skunk & Goat Tavern, 17 W. Main St.
Cost is $20 and includes long-sleeve t-shirt. Participants are encouraged to wear their best holiday attire.
Race begins at 6 p.m. in front of the Mercyhurst North East pool entrance on North Lake Street.
After the race, participants are invited to the after-party at The Skunk & Goat Tavern, featuring refreshments and live music from Division Street Machine from 6 to 8 p.m.
Proceeds benefit The Door, a ministry that serves North East youth. The race was started in 2007 and honors long-time North East resident and coach Ted Miller.